Google presented two smartphones at its event: the Google Pixel and the Pixel XL. With these new arrivals, Google has begun a new era. For the first time, Google is bringing its own smartphones under their own brand onto the market, and with that, has become a direct competitor to other hardware-producing companies.
Google Pixel and Pixel XL: price and release date
Google Pixel will not come cheaply. The 32 GB model will be sold for $649, while the 128 GB version will be sold for $100 more. The Pixel XL, with less internal storage, will be sold for $769, while the 128 GB version a whopping $869.
We'll provide more information about when and where you can get both smartphones when the information rolls out. That being said, you can already look forward to a release date for both devices on October 20, so get your credit cards ready. The Google Pixel is already available for pre-order but the only major carrier will be Verizon.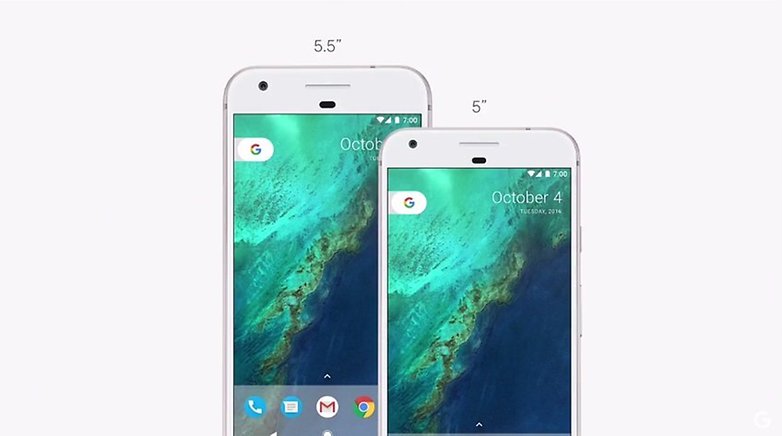 Google Pixel and Pixel XL: technical specifications
A look at the tech specs list shows us that both Pixel smartphones were packed with the best in mobile technology. Most impressively, they come with a Snapdragon 821 processor backed with 4 GB of RAM, allowing both devices to perform at lighting-speed.
While the Pixel rocks a 5-inch display with Full HD resolution, Google bestowed the Pixel XL with a 5.5-inch display with a QHD resolution. Because of its small body, the Pixel merely stores a 2,770 mAh battery, while its bigger brother, the Pixel XL, is well-endowed with 3,450 mAh.
Here you'll find all the tech specs for the Pixel and the Pixel XL:
 
Google Pixel
Google Pixel XL
Model:

Sorry, not yet available!

Sorry, not yet available!

Manufacturer:
Google
Google
Dimensions:
143.8 x 69.5 x 8.6 mm
154.7 x 75.7 x 8.6 mm
Weight:
143 g
168 g
Battery size:
2770 mAh
3450 mAh
Screen size:
5 in
5.5 in
Display technology:
AMOLED
AMOLED
Screen:
1920 x 1080 pixels (441 ppi)
2560 x 1440 pixels (534 ppi)
Front camera:
8 megapixels
8 megapixels
Rear camera:
12.3 megapixels
12.3 megapixels
Flashlight:
Dual-LED
Dual-LED
Android version:
7.1 – Nougat
7.1 – Nougat
User interface:
Stock Android
Stock Android
RAM:
4 GB
4 GB
Internal storage:
32 GB
128 GB
32 GB
128 GB
Removable storage:
Sorry, not yet available!
Sorry, not yet available!
Chipset:
Qualcomm Snapdragon 821
Qualcomm Snapdragon 821
Number of cores:
4
4
Max. clock speed:
2.15 GHz
2.15 GHz
Connectivity:
HSPA, LTE, NFC, Bluetooth 4.2
HSPA, LTE, NFC, Bluetooth 4.2
After the most recent Google devices finally came with good cameras – after years of user complaints – Google is staying on course with its latest Pixel phones: both are stocked with 12.3 MP rear sensors and optical image stabilization, which we are sure will lead to high quality pictures.
It seems that Google has adopted a similar sensor to that of the Nexus 6P. What's more, these new cameras could likely deliver good quality in low light situations. We will however need to perform a more thorough test in the future when we finally get our hands on the devices.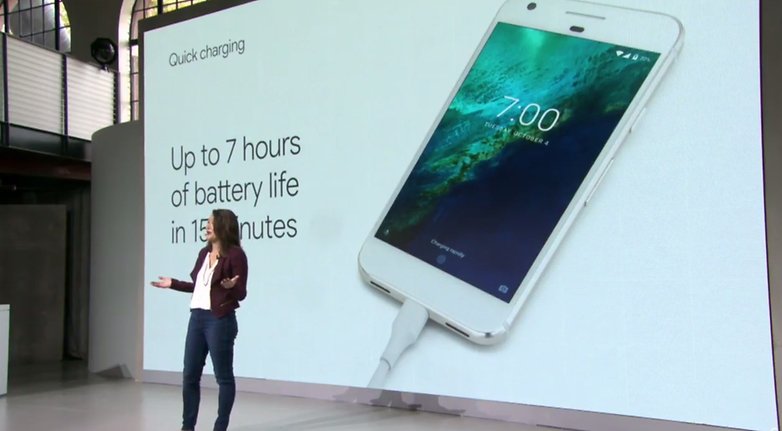 Google Pixel and Pixel XL: software particularities
While the technical setup of the Pixel smartphones is on par with other high end smartphones, the software is another interesting thing altogether and likely what will make the phones stand apart from the rest of the high-end pack. For one, both come stocked with Android 7.1 Nougat already on board, an update many Android users could only dream about. In addition, they've got Google Assistant on board, a deeply integrated part of the system. Some pre-installed apps like Duo and Allo are also available. And Google packed both phones with a movable navigation bar.
Buyers will have the chance to update pictures from Google Photos freely. What's more, these will be in their original resolution. The pictures will be saved to Google Drive.
What do you think of the Google Pixel and Pixel XL? Let us know in the comments.
Thank you for your visit on this page Alongside the Pixel, Google presented the 5.5-inch Pixel XL