The smartphone specs war continues to rage, with RAM and processors being boosted every year. Now, smartphones are more than capable of handling advanced and graphically beautiful games, and a new generation of specialized gaming phones is making its way to our hands. We've updated our list with the best phones for mobile gaming in 2018.
Choose "No, I have never." or "Yes, I have.".
Oops! Seems like something went wrong. Reloading might help.

No, I have never.

Oops! Seems like something went wrong. Reloading might help.

Yes, I have.
Jump to:
Razer Phone: big, loud, and super-smooth
The company that made its name manufacturing powerful gaming accessories and the acclaimed Razer Blade range of gaming laptops didn't disappoint when it came to presenting the Razer Phone, with mobile gamers firmly in mind.
The Razer Phone's only available configuration packs in 8 GB of RAM alongside 64 GB storage and the (now no longer top-of-the-range) Snapdragon 835 chipset. All this with seriously powerful speakers in the side bezels for an immersive sound. But the real star of the show is the 5.7-inch display with a 120Hz refresh rate. The GPU can be synced to this refresh rate for lag-free, silky smooth frame rates on even the most demanding games, and is especially helpful on action titles where a split-second reaction can make the different between victory and defeat.
Another benefit is Razer's Game Booster, where you can control various settings related to gaming, like adjusting the resolution, frame rate and processing power. If you're someone with a ton of games on your phone, some requiring more power than others, this is great for making sure your phone handles them efficiently. You can even toggle anti-aliasing and disable notifications while a game is running so that you're not disturbed.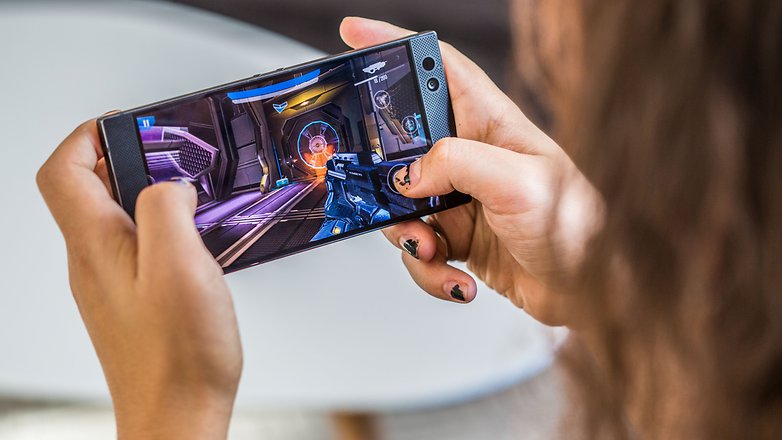 iPhone X: when you want to be first in the game
In contrast to the previous entry, iPhones don't exactly scream 'gamer' in appearance or marketing, but there's a definite advantage to them for gamers. With iOS, Apple keeps a well-trimmed walled garden across the iPhone range which makes it easier for app developers to develop a game for iOS than for Android, which suffers from fragmented distribution and a staggering variety of hardware configurations.
The result? High-end games often debut on the App Store much sooner than on Google's Play Store. iPhone owners have been playing Fortnite on their phones for months while Android gamers are still waiting. Same goes for upcoming titles such as Life is Strange or Alto's Odyssey. While I still prefer the greater choice and control of Android, I've cast an envious eye over to iPhone owners more than once for this reason. Apple's careful curation of the App Store also guarantees good optimization and performance for your hardware.
Naturally, the obvious choice is the iPhone X, Apple's top model of the moment, but the iPhone 8 Plus is also a good choice for iOS gamers who prefer a more classic look.
Xiaomi Black Shark: a dedicated handheld gaming device
The Xiaomi Black Shark is a gaming-focused smartphone and not shy about it, with an aggressive angular look, black with bright highlights. But it's not all show. Inside the Black Shark, we find an array of hardware powerful enough to handle any modern game with ease: an octacore CPU, 8 GB RAM and the Adreno 630 GPU. Naturally, there's also a specialized cooling system.
Another striking feature is the dedicated Shark button. When you press it, your phone switches to maximum performance and and opens a gaming environment in landscape mode. From here you can manage your games and configure the snap-on gamepad.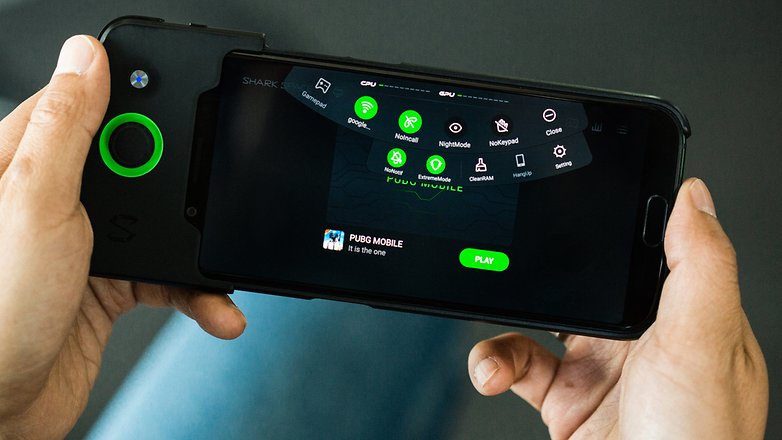 Samsung Galaxy S9/S9+: Game Mode and Gear VR
The Galaxy S9 and its more powerful sibling, the S9+ may be the best Android smartphone on the market, and that still counts for gaming performance. Samsung's dedicated Game Mode, which is comprised of Game Launcher and Game Tools, shows the special care Samsung has taken to accommodate mobile gamers. The Game Launcher is home to all your games, while Game Tools changes the screen mode to accommodate games that don't support the unique 18.5:9 aspect ratio, among other things. All of this ensures that your experience is immersive, by disabling notifications and the invisible home button to allow for uninterrupted game play, for example.
The impressive hardware also allows for a smooth, engaging experience. The curved, 5.8-inch AMOLED Infinity Display of the Galaxy S9 (6.2 inches on the S9+) has a 18.5:9 aspect ratio with a 1,440 x 2,960 resolution for a great visual experience. All that screen real estate is held in a thin, ergonomic body and powered by a 3,000 mAh battery. The Galaxy S8 features the top of the line Snapdragon 845 processor with an Adreno 630 GPU and 4 GB of RAM (6GB in the S9+).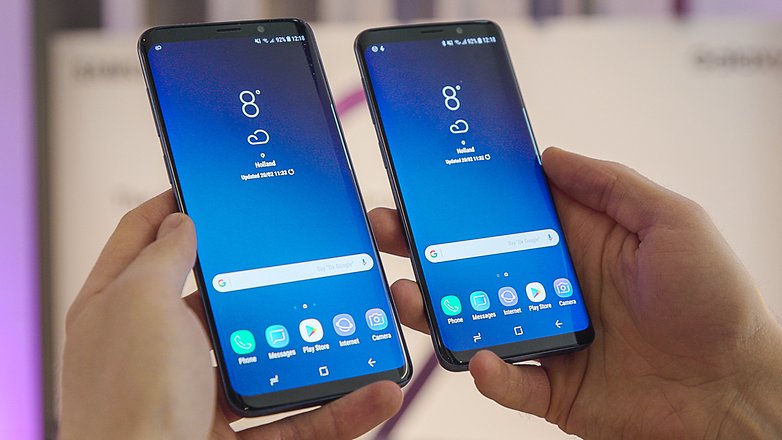 It should also be mentioned that fans of VR mobile games have an additional benefit when it comes to choosing Samsung: the Gear VR is the best smartphone-compatible VR headset out there, and with it you can enjoy fantastic immersive VR games such as Endspace.
OnePlus 6: the flagship killer with more than enough RAM 
The OnePlus 6 is no slouch when it comes to gaming, thanks to its top specs including 6 to 8 GB of RAM. This gives it incredible gaming performance which is complemented by the Gaming Mode, which suppresses accidental presses of the keys and notifications, can route incoming calls to speaker, save battery and other useful tweaks to ensure you are not disturbed while playing. The 6.3-inch Full HD display is powered by a 3,300 mAh battery which can stand up to the most demanding games without overheating.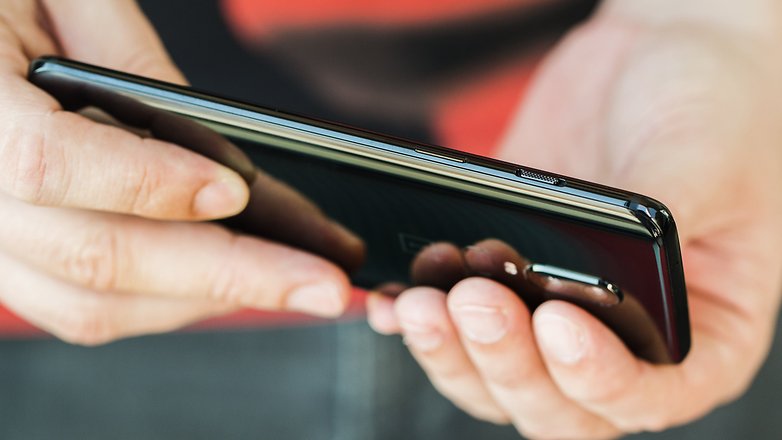 Moto Gamepad: a budget console in a snap for the Moto Z2 Play
The Moto Gamepad will attach to any smartphone in the Moto Z family, giving you two control sticks, a D-pad and four "tactile action buttons". It resembles the Nintendo Switch. Since the Mod attaches to the device directly, there won't be any lag from wireless connections and Motorola says it will last up to 8 hours thanks to its 1,035 mAh battery. So, if you're thinking of investing in a smartphone that will provide a good gaming experience, in addition to other possibilities offered by Mods, you may want to consider a Moto Z device like the Moto Z2 Force, or the Moto Z2 Play which is a great budget option.
There are plenty of other great phones (and accessories) for gaming on the go, and even more powerful gaming devices are arriving on the horizon, such as the upcoming Asus ROG Phone. If you're not running the most graphically demanding games, however, even mid-range devices should be able to handle most of what's new on the Play Store.
Which games do you enjoy most on mobile? Are there any phones you'd recommend for gamers? Share your thoughts with everyone in the comments.
We are very happy for your visiting to this web page Best smartphones for gamers 2018. We hope the contents of this article can give more information to you.
Thanks…!!! 🙂
The sources of this post from: https://www.androidpit.com/best-phones-for-mobile-gaming