Unfortunately, smashing the screen of your smartphone is fairly a common occurrence. If this has happened to you and you're now the unlucky owner of the notorious spiderweb on an unresponsive touchscreen, you don't have to say goodbye to your device just yet. You can still use it from your PC. Here's how.
How to recover data if your screen is broken but you can still see the display
If you've broken your touchscreen but the display is still working (you can see it), you can fix this by using a USB OTG (On The Go) and a mouse connected to your device. A USB OTG connects mobile devices to other devices. Basically, your Android device has a mini-USB port and you need to connect this to a mouse that has a USB port. The USB OTG links these two together.
Once you have connected the mouse, you can unlock your device regardless of whether you have a pattern, PIN or password. We recommend using passwords anyways because they are highly secure. 
Now that your phone is unlocked, you can connect it to your computer and either transfer the data you need to your microSD memory or connect it directly to your PC and transfer the files there.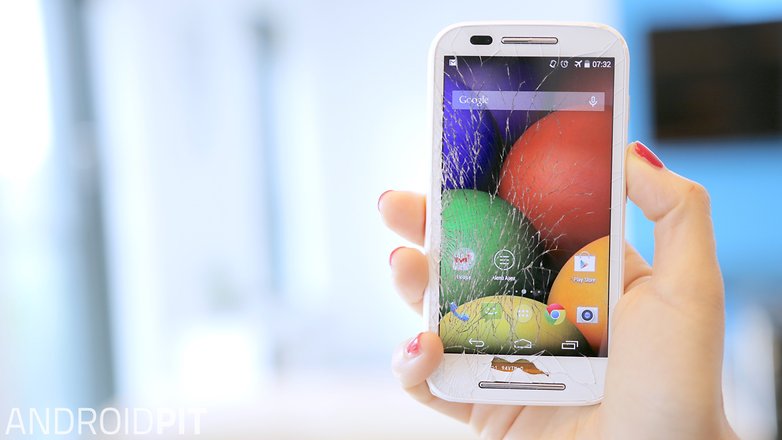 How to recover data if your screen is off
If you can't see your screen, you might need to get a VNC program. There are plenty of these on the market but make sure you pick one that's safe and free. These programs move your Android interface to your PC so you can control it from there.
In order to use these programs, you'll need to download the program to your PC but also on your Android device. There are some paid programs out there too but they usually include more features than this. So if you're looking for a more extensive tool, you can grab one of these instead.
Recovering files with AirDroid
AirDroid is software that connects your smartphone to your computer. You can use it from a web interface or through an application on your computer. You just have to install it on your PC and on your Android device.
Through your account, you should be able to connect to both devices. On your smartphone, you will see several icons that give you access to features such as file transfer or app uninstalling. You can take a look at the different options but the one we're looking for is the Backup.
Make sure you use the same login details and go to your phone and press the save button. You can also go through the application: click the name of your device in the left menu and click the Backup menu within the three tabs at the top. Your data will then be saved onto the computer.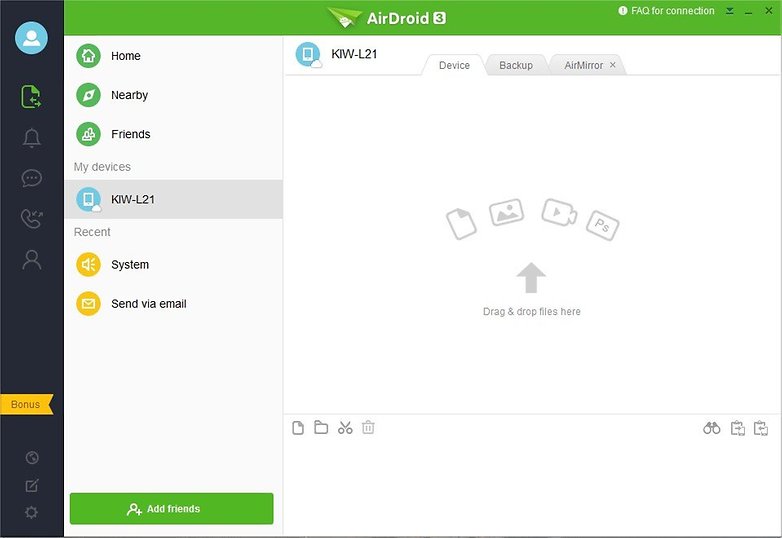 Plus: AirDroid also allows you to see your notifications on the computer.




AirDroid: File Transfer/Manage


Recovering files with Vysor
Vysor also allows you to use your Android phone from a desktop computer. It works through an extension for Chrome, which has a clear advantage: you can use Vysor on Windows, Mac and Linux. A simple USB cable connects the phone and desktop.
You can use Vysor's basic functions with the free version. With it you can, for example, connect the devices to take screenshots from Android. With the paid version, screen quality is better, full screen display is available and data transfer can be performed by dragging and dropping all without a cable connection.
Application setup is simple. We found it to be occasionally slow and, as mentioned above, the image quality is not optimal in the free version.
AirDroid is probably the best way to use your smartphone from your PC because it offers more than Vysor. Perhaps TeamViewer also deserves a place in this list but unfortunately it does not work with many Android devices. 
If you still can't get your data
Another solution for getting your data off your phone is to take it to a shop that can fix it. Yes, this option costs money but you'll not only have your data but also have a fixed phone. 
Make sure you ask around for a reputable repair shop. Once the phone has been repaired, they can easily steal your data. If you go to one of the big dealers, you'll probably pay more but you're also less likely to get ripped off.
Have you recovered data from a broken smartphone? Let us know how in the comments.
Thank you for your visit on this page How to use your broken smartphone from a PC