The Honor View 10 hit the UK market at the beginning of January, but we're still patiently waiting for it to arrive in the US. The Samsung Galaxy S9 just made its debut at MWC in Barcelona and will be available from March. These two flagships are very different in terms of design, software and price. Which should you choose?
The S9 wins in terms of design
It goes beyond subjective taste. The Samsung Galaxy S9 goes farther in terms of design, with its modern curves on the front and back, glass body and Infinity display. Of course it isn't so new compared to the previous generation, but the Galaxy S8 was a huge step forward nevertheless. The S9 is a carefully crafted device, with every detail just right, from its seamless construction to the more discreet CE logos on the back.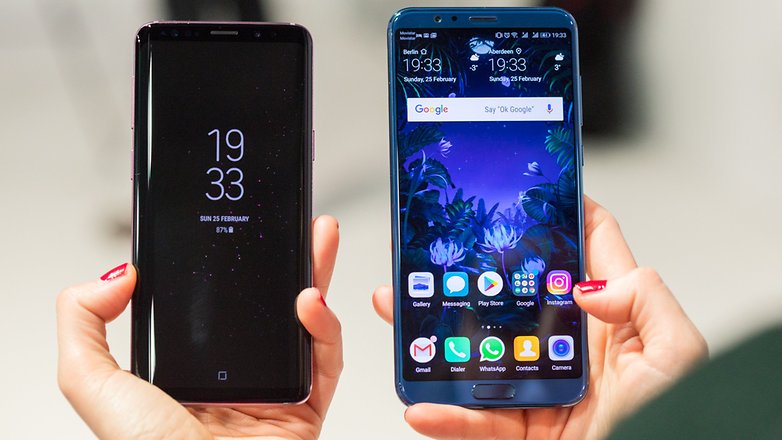 The Honor View 10 is nice to hold and pleasant to look at, but after a few months of use, its personality will fade into the background, especially compared to a bold phone like the S9 which stands out. The aluminum makes it more drop resistant, but the protruding camera is really unfortunate. Holding both side-by-side, you really feel the difference between the two devices.
I prefer the design of the Samsung Galaxy S9
What do you think?
Both phones come with a headphone jack, but the fingerprint sensor is located on the front of the View 10 and on the back of the S9. Don't worry, Samsung has made the fingerprint scanner easier to reach this time.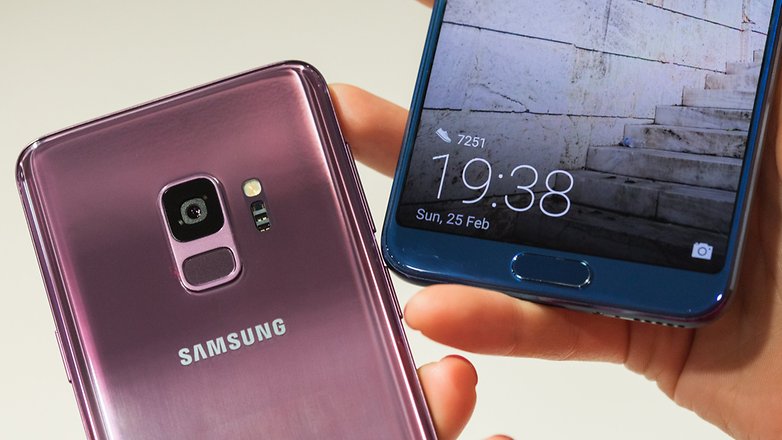 Artificial intelligence for the View 10…
With the View 10, Honor has put a focus on AI. At the beginning of January, the Chinese company released a smartphone with the Kirin 970 processor, which is equipped with an artificial intelligence unit capable of, for example, understanding which settings or filters are needed before snapping a photo. And this is just one of the ways AI can make your smartphone more powerful. Because Huawei integrated the AI chip in the Mate 10 Pro already, Honor was able to do it more easily.
As in the example above, the main benefits of AI will be felt when using the camera of the View 10, and it must be said that AI and marketing go hand-in-hand. In any case, the technology is in its early stages and forward-looking Honor managed to bring it to a smartphone that costs around $600.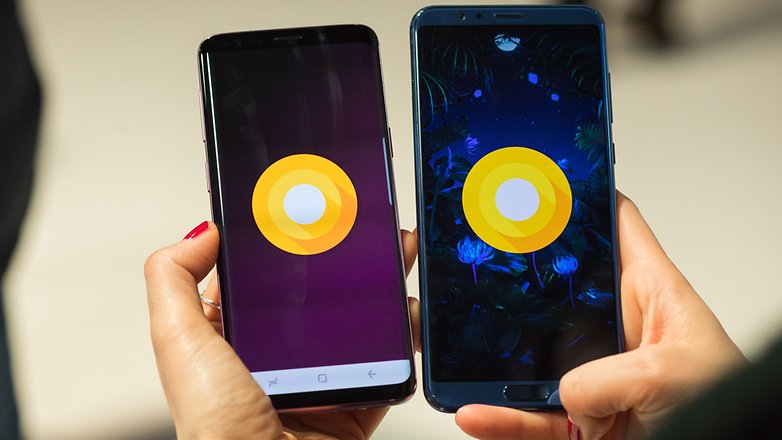 …Bixby for the Galaxy S9
Though Bixby is touted as one of the main selling points of the Galaxy S9 and the S8 before it, for me, it continues to be a disappointment. Despite Samsung's attempts to optimize it and give it a dedicated hardware button, I still think that Bixby is useless at its current maturity level. Competition between voice assistants is fierce, and compared to Google Assistant, it doesn't make the grade.
Bixby Vision on the S9 might bring a bit more satisfaction since it is now able to recognize written phone numbers and add them directly to the keypad.
Galaxy S9 Plus vs Honor View 10: technical specs in comparison
 

 
Galaxy S9 
Honor View 10
Processor
Snapdragon 835, 10 nm
Kirin 970
Display
5.8″, Super AMOLED,
QuadHD+, 18:5:9
5.99″, IPS LCD, FullHD, 18:9
Camera 
12 MP, OIS, f/1.5 – f/2.4 8 MP, f/1.7 (rear)
8 MP, f/1.7 (front)
16MP RGB + 20MP f/1,8 (rear)
13MP, f/2.0 (front)
OS
Android 8.0 Oreo
Android 8.0 Oreo
Memory
4 GB RAM, 64/256 GB internal storage,
microSD support

6 GB RAM, 128GB internal storage,
microSD support

Audio
Stereo speaker by AKG
Mono speaker
Battery
3,000 mAh
3,750 mAh
Price
$719/$839
about $610
An easier choice than it seems
As you can tell, these are two very different devices. The Galaxy S9 boasts a premium look, a better display and a better photography experience on paper, especially in low light conditions. Of course, only a final review will confirm the quality of the S9's shots, but considering that the S8 definitely had one of the best cameras on the market in 2017, we don't expect anything less from the S9.
Otherwise, the View 10 has nothing to envy from S9. To the contrary, in fact: its larger battery might win out in terms of battery life, it has more memory and it costs much less. Both run Android 8.0 Oreo, but with two different user interfaces.
Choosing between the two might seem daunting, but it's actually simple: for those two want flagship performance, the latest version of Android and of-the-range specs, you'll do just fine with the View 10 for about $600. For those who don't mind spending more, love having the latest releases or just dig the Samsung brand, you can't go wrong with the Galaxy S9.
Choose "Galaxy S9" or "Honor View 10".
Oops! Seems like something went wrong. Reloading might help.

Galaxy S9

Oops! Seems like something went wrong. Reloading might help.

Honor View 10
---
This article will be fully updated as soon as we receive the Samsung Galaxy S9 for a more detailed review.
We are very happy for your visiting to this web page Samsung Galaxy S9 vs Honor View 10: Worth the price jump?. We hope the contents of this article can give more information to you.
Thanks…!!! 🙂
The sources of this post from: https://www.androidpit.com/samsung-galaxy-s9-vs-honor-view-10